August 31, 2021
The Owl 8/11/21
Health & Safety Protocols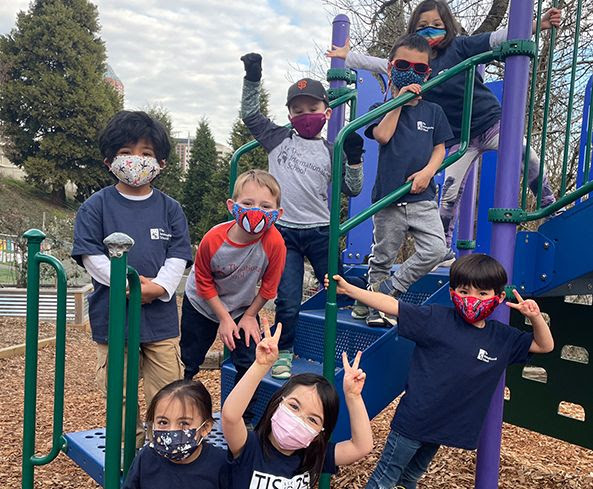 Since the start of the pandemic, we have been extremely proud of our policies and protocols to ensure the safety of all members of our community. Since opening our doors to Early Childhood in September 2020, we only experienced one case of Covid-19, which we responded to quickly and did not spread to the school community.
Per Bodo Heiliger's email last week, many of our school's policies and procedures will remain the same, though a few have changed. Some examples:
MASKING: We will continue to require masking for all students, faculty, and staff, both indoors and outdoors.
VOLUNTEERS & STUDENT TEACHERS: We will be allowed to have volunteers and student teachers this year! Non-staff adults can only enter the school for a clear purpose arranged in advance by the teacher, staff, or the ISP Parent Network

SCHOOL BUILDING ENTRY: Unless needed for volunteering, families will continue to NOT be allowed to enter the school buildings. On classroom visit day on August 30, families will be allowed to enter the buildings.

NON-ESSENTIAL TRAVEL QUARANTINE:  The school requires that all non-vaccinated people who engage in non-essential travel will have to be quarantined for 10 days with no test or 7 days with a negative COVID test.
Once again, we find ourselves in an evolving situation. These are still quite challenging times. With the support, dedication, and cooperation of our staff, students, and families, we are confident that we can keep our community healthy and safe!
2021-22 School Calendar: Subscribe through MySchool App
Our
2021-22 school calendar
is available on our website. Use MySchool App to subscribe to the calendar through your phone!
About the MySchool App Calendar
The calendar defaults to display an aggregate of your school's events; however, you can use the date options on top and the filter options on the left to find and filter to your desired view.
How to subscribe to the School Calendar
1. Click on the little "feed" icon in the top right hand corner of the calendar:
2.Options for managing feeds from each of the user's calendar section will appear.
3. Select whether to use a feed for the entire calendar or for individual calendars within a section (NOTE: There isn't much else on the calendars yet!). Add to your calendar by clicking on whichever feed you want.
Sign Up to be a Room Parent!
Questions about room parenting? Feel free to reach out to Kat Simons (
Kats@intlschool.org
), current room parents, or one of our Parent Network Co-Chairs, Meryl Villarreal or Erica Dillon, for more information:
parentnetwork@intlschool.org
THANK YOU!
MySchool App: Please Complete Your Forms!
If you haven't already, please complete your student forms as soon as possible! 
Upon logging in, you should see a yellow banner on the top of the screen asking you to please complete your student forms and checklist(s).
Please review and/or complete each of the forms. If you completed the forms last year, you will already see pre-filled information. The forms include Medical permissions, insurance and doctors, enrollment policies acknowledgements,* and contact verification.
New families are also asked to upload immunization records, if you have not already done so.
NOTE: Authorized pickups will be added in SchoolPass, our arrival and dismissal app. More information about that – and potential revisions to arrival and dismissal procedures – coming soon!
*If you are a new family, you may have already completed this upon enrollment
School Supplies Lists
Each academic year, students are asked to bring a small list of durable supplies to be kept at school. These are typically items that a student will bring home at the end of the year to be used again.
Please click below to see the school supply lists for 2021-2022:
Please note that most school supplies (such as paper, pencils, notebooks, crayons, etc)  are provided by the school and included in tuition.
School Supplies Lists can also be found under the "Resources" Section on MySchool App.
Classroom Visits – Monday, August 30
Classroom visits are back! Come meet your teacher and see your classroom before the big day!
Classroom visits start at 8:30am and run until 10:30am. Due to social distancing and cohorting recommendations, visit times will be available in 20-minute slots. Please limit your family attendees to the smallest number possible.
We will be sending out sign-ups – along with teacher assignments – the week prior to school starting. Following the classroom visits, join us on the playground for some fun and treats!
Back-to-School Events
NEW ELEMENTARY FAMILY POPSICLE SOCIAL 
Friday, August 20
ISP Lower Playground
2 – 4 pm
**Masks Required**
Join new elementary ISP families at school for popsicles and time on the playground. Meet at the school's lower playground where we'll be serving the popsicles. To make sure we have enough popsicles, please RSVP here:
https://intlschool.org/summer-events
——————–
EARLY CHILDHOOD FAMILY PLAYDATE
Saturday, August 21st
Sellwood Park Playground
10:00am to noon
**Masks Required**
All Early Childhood families (PreK – Kinder) are invited to join us for a morning of play at Sellwood Park Playground (714 SE Miller St, Portland, OR 97202)!  This is a great opportunity to meet other preschool families, both new and returning, and school staff.
——————–
ISP NEW FAMILY ORIENTATION (Virtual)
Thursday, August 27th
9am, 12pm, or 3pm
If you are new to the ISP community, please attend a 90-minute orientation session to learn more about the school, its activities, and its routines.
There will be three orientation sessions at 9 am, noon, and 3 pm for new families to hear from staff and have the opportunity to ask questions. There will also be information about after-school programs and lunch options.